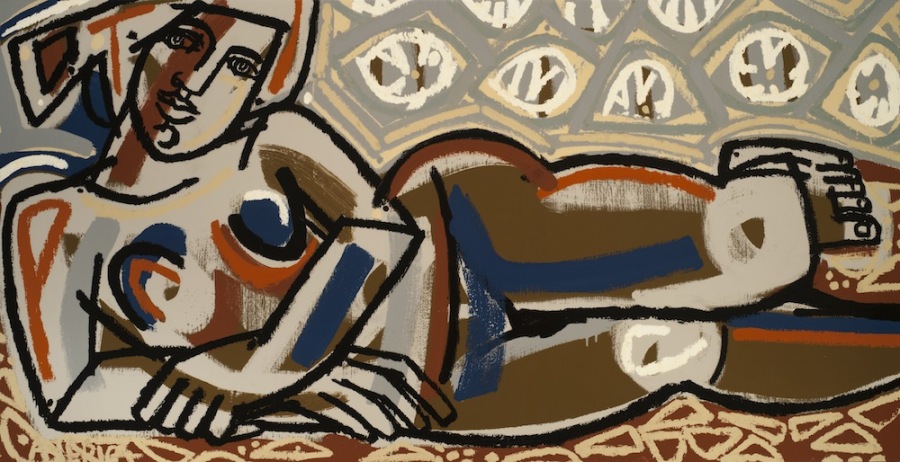 Camping Under the Stars
oil and acrylic on canvas
35 x 71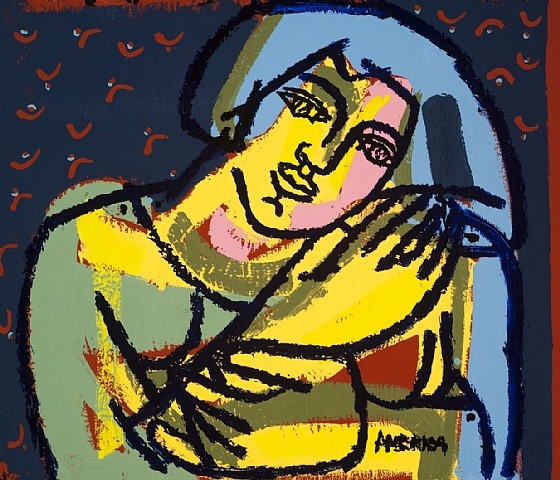 Resting and Thinking
oil and acrylic on canvas
37 x 31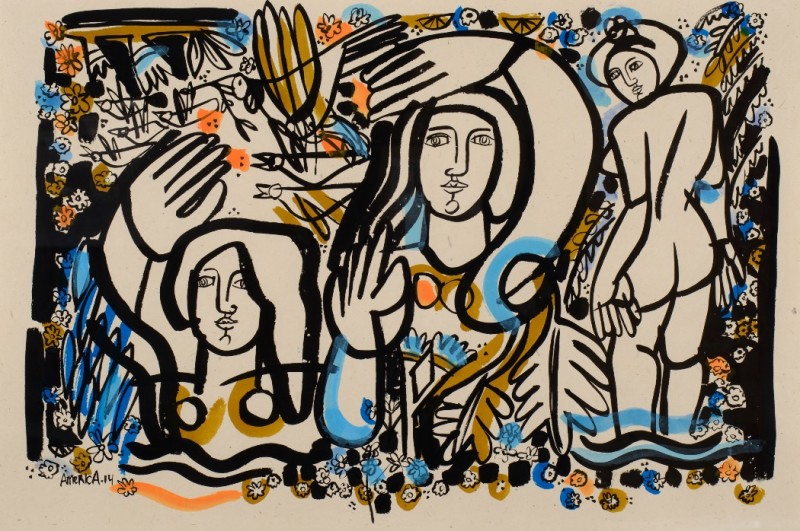 Bathers, Birds & Flowers
ink on paper
30 x 20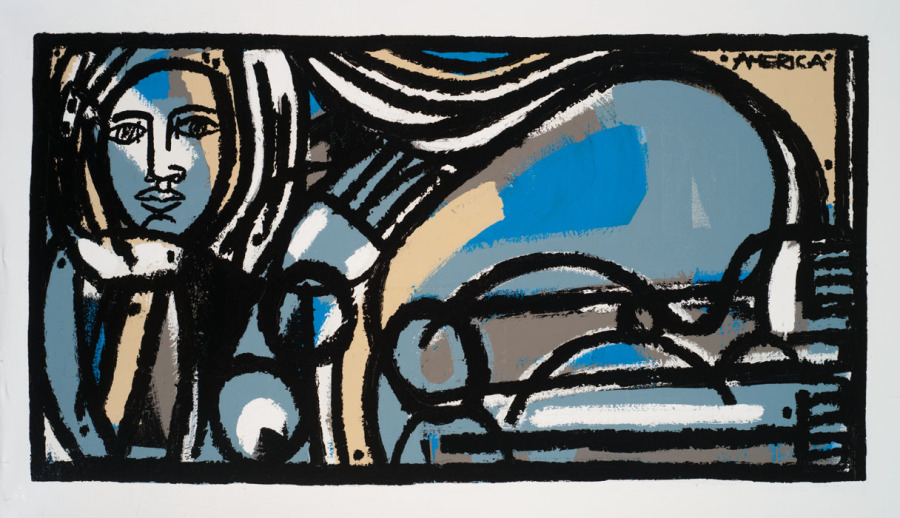 Woman in Blue
oil and acrylic on canvas
32 x 56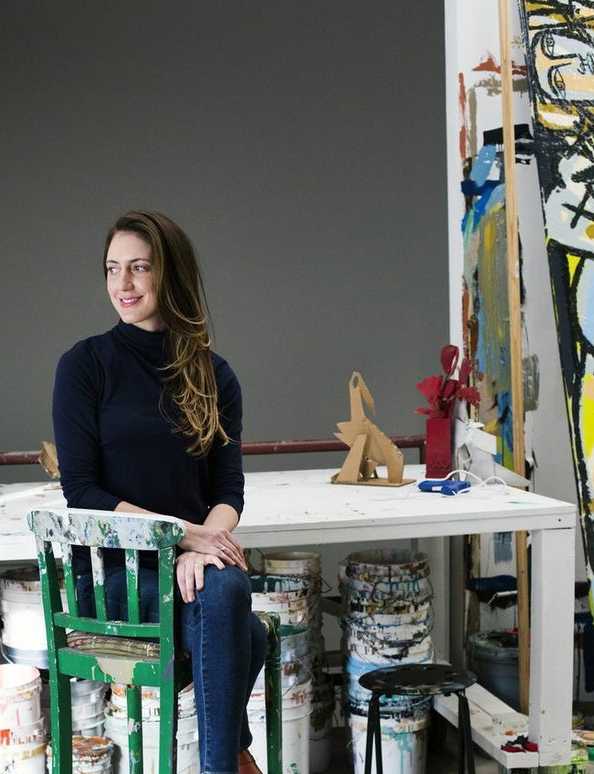 Interview with AMERICA MARTIN:
In an interview with LA I'm Yours, you mentioned that being from and working in L.A. is essential to your process and product. Have you ever lived and worked in other cities and how, if at all, did it impact your work?
I find that living in Los Angeles facilitates experimentation. There is so much of any and everything and it is in easy reach.
Living in different cities has a definite practical effect on creating art.  The question then becomes: what do you have ready access to?  Is there a lumber store near by? Is the weather such that all paper curls because of humidity before your ink can dry?
But that is also part of the fun, to adapt to a new environment, to discover new methods that you had not practiced before.
I find the people & the city of L.A. is used to dreamers and hence very supportive to the wild lengths that making art often requires.
In an interview with Refinery 29, you stated that color is "the punctuation in…life." Can you explain this?
We are drawn to definite colors during different times of our lives. Color can embolden, soothe, agitate, or invigorate. And part of the process of making art is to dream up new colors, to find out new harmonies, that tell an old story in a new way.
The three masters of color for me are Gauguin, Van Gogh and Rothko. Those guys had it down. They can group together colors that are so powerful that the thought of them can haunt you for years.
I remember going to the Tate in London and walking into the Rothko Room and feeling as if I was standing right inside Rothko's stomach.  It was an intensely wonderful & bizarre experience.
What internal obstacles/resistance do you find yourself facing when making your work? How do you overcome these challenges?
I have discovered that when work becomes stale, I know I have to become curious; I must look out and become engaged with things other than myself.
This is when I relish discovering other artists' work, going to exhibitions, discovering a new author, seeing a play or an opera. Simply getting busy admiring all the wonderful things that other people are doing in the world without fail gets me so inspired and excited, I find myself eager to jump back into the studio and work.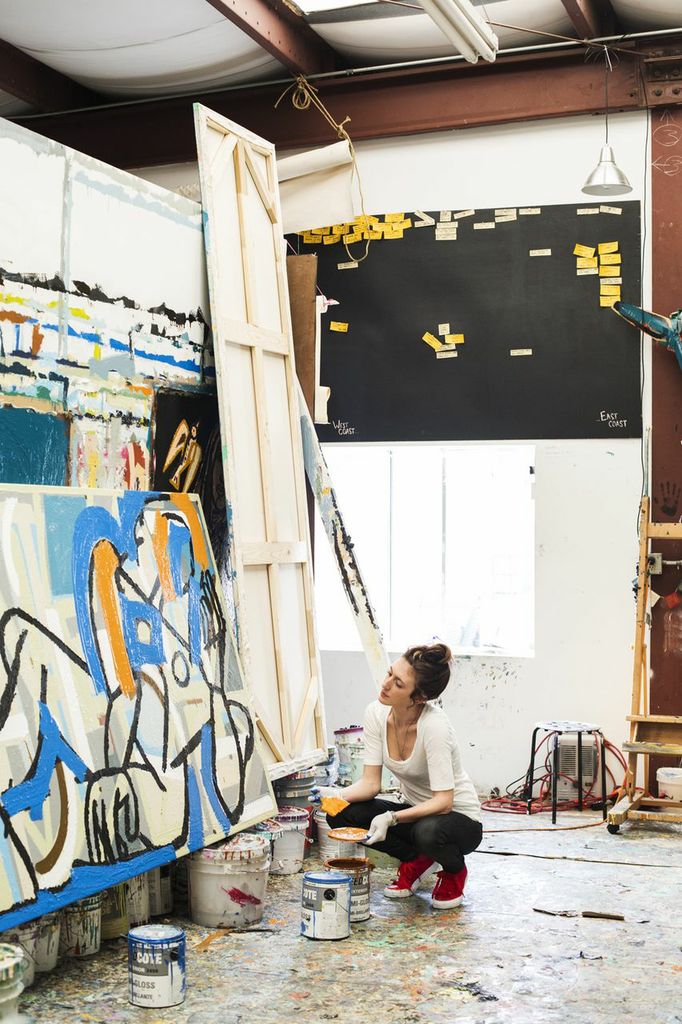 Do you participate in other crafts (in addition to painting)? What is the relationship between these different practices?
The only difference between a hobby and a craft is the level of commitment you give to it.
I love to make all manner of things from sewing animal costumes for friends' children to designing prints for textiles, but I can stop doing those things at any moment and not think about it again.
But painting, drawing, sculpture, these are things that are alive and live within me. I am never without a desire to tackle a raw stretch of fresh canvas or see just how deep a blue I could make.
Is there anything you return to for inspiration?
I return again and again to the female form for inspiration. I began drawing from the nude form when I was 9, and yet I constantly find new lines, new perspectives and new ways of working. I find in that an endless source of joy.
Who is someone whose work you highly recommend?
I adore telling people about other artists I admire. I love the work of the cinematographer Ross Richardson; his technique and ability to paint with light is just remarkable. And always I would have to say my favorite sculptor around is Thomas Houseago; I find his work invigorating and plain fantastic.
View more of America's work here.