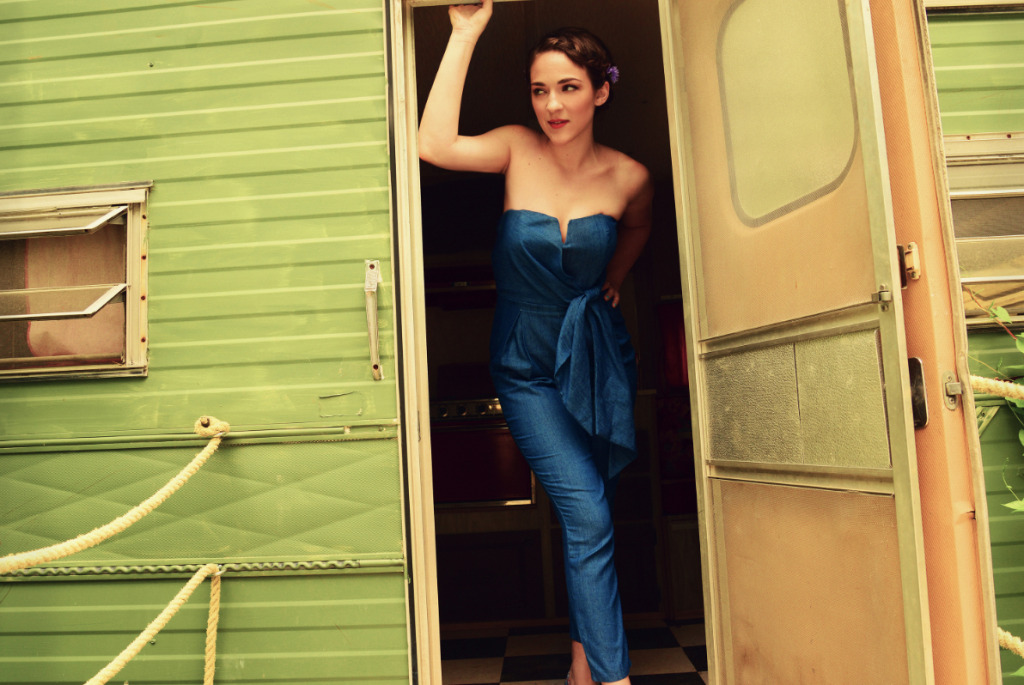 Vocalist, composer and guitarist Becca Stevens is a North Carolina-bred, New York-based artist. She attended the New School for Jazz and Contemporary Music and has played with such musicians as Brad Mehldau, Lionel Loueke, Esperanza Spalding, Ambrose Akinmusire, Eric Harland, and Billy Childs.
Interview with BECCA STEVENS:
What is your relationship with solitude?

Hmm…good one! What a cool opening question. Solitude for me is necessary, for my equilibrium, and especially for my art. As an extrovert, and a family oriented person, and a busy person, I often find it difficult to make the time for solitude. When I go too long without solitude, I start to feel anxious from a lack of mental space and clarity. Other times I find it hard to be in solitude, and that's when I know I need it most.
In an interview with London Jazz News you stated that collaborating keeps you balanced. How does collaboration keep you balanced and what does being "un-balanced" mean for you in terms of your craft?
You've done your homework! It's like a chef going to another person's kitchen and trying their cuisine. Or better yet, being a sous chef in a kitchen that is very different from your own. If I'm singing with someone, I get to step inside their world and walk around and experience processes and sounds that are different from mine. I leave those collaborations feeling totally refreshed and inspired, with their music still playing in my ears. I'm really grateful that my collaborations nowadays are with people who I admire.
I also find that writing for other people is liberating. That slight detachment from writing solely for myself is like a tropical vacation away from my scrutiny. I find myself writing more efficiently. Then I bring that efficiency back to my own writing for myself and for my band, like a teacher bringing a method to her student.
How much is the emotional expression in your music (composition and performance) a deliberate decision, and how much is it an inevitable aspect of your expression?
That is a difficult question to answer accurately, but I would venture to guess it's roughly 99% an inevitable aspect of my expression. If anything, at times, I try to dial back the emotional intensity of an album or set list by including a light-hearted cover. Sometimes I'll try to challenge myself to write a "feel good" song, or to incorporate more simplicity in my writing style. The "deliberate decision" I made early on as an artist was to stay committed to the emotional aspect of my music/self even if it makes for a more unusual process or unorthodox results.
Would you say there are problematic aspects of gender roles in the contemporary culture of jazz? And if so, how, if at all, does that impact you as a woman artist and performer?
I haven't had much experience with that, personally. Early on, in my first couple years of college at the New School for Jazz and Contemporary Music, I came across some folks who didn't take singers seriously, especially the female ones. Over time, by collaborating with as many people as I could and staying strong in my self, that went away. Eventually I realized that the people who hold strong to beliefs like that are the ones who are afraid themselves.
When you are creating a particular piece, are you viewing it in the context of your overall body of work, or do you treat it as an isolated piece?
When I'm writing for myself, yes, I do tend to think of it in the context of what album it will be on.
What artists (with whom you have not yet worked) would you like to collaborate?
Thom Yorke
Joni Mitchell
Shara Worden
Blake Mills
Frank Ocean
Steve Reich
Snoop Dogg
Little Dragon
Toumani Diabate
I wish I could write a song for Beyoncé
Michael Jackson : (
Hear Becca Steven's work here.