photo: Susie Knoll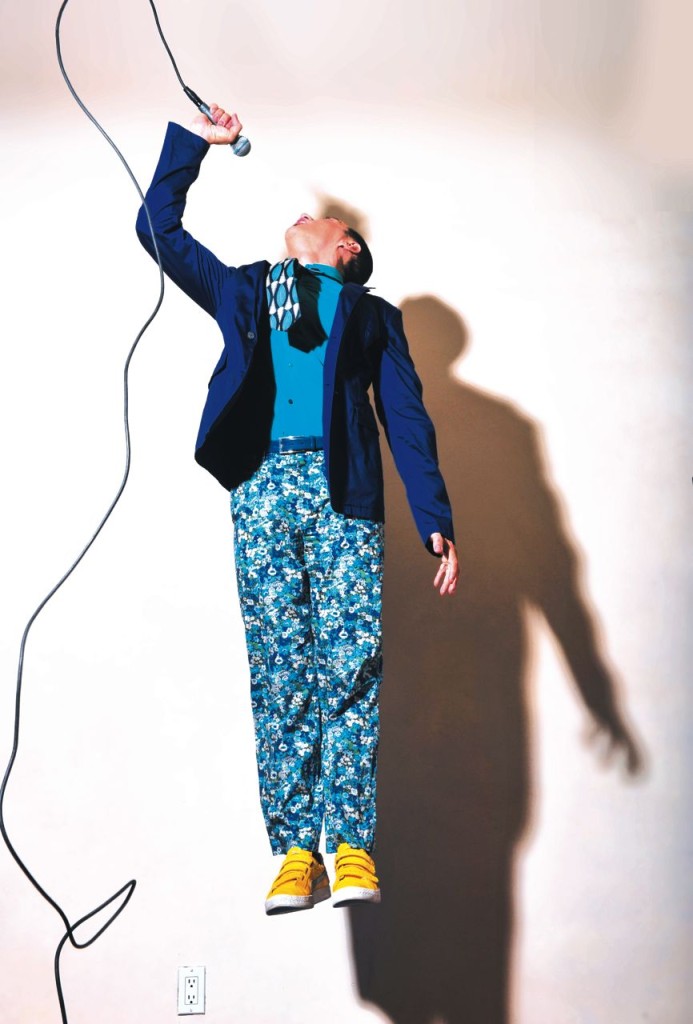 photo: John Labbé
Grammy-nominated singer and composer Theo Bleckmann is a German-native and has been residing in New York City since 1989. His accolades include NPR's 2012 Top 10 Jazz Albums of the Year for Hello Earth! The Songs of Kate Bush, top-five spots in the 2013 and 2014 DownBeat Critics' Polls for Best Male Vocalist, third place for Best Vocalist in the 2012 Rhapsody Poll of 119 critics (formerly hosted by the Village Voice), Boston Phoenix's "Best Jazz Acts" of 2012 for Hello Earth! The Songs of Kate Bush and WQXR's Operavore "Best Opera of 2012" for Out Cold by Phil Kline. In 2010, Bleckmann received the JAZZ ECHO award from the Deutsche Phono-Akademie in Germany and also appeared on the David Letterman show with Laurie Anderson.
Interview with THEO BLECKMANN:
Did you ever feel like you were trying to figure out who you were, or was it more a process of getting people to see and hear who you already knew you were?

In trying to get people to see and hear me, I discovered who I had already been, often through a process of elimination. Saying that I was a fully formed artist would be quite preposterous, but there is a strong energy, when you are young and eager, that resembles a kind of blind faith—this knowledge, or feeling, about something inside of you that's worth putting out into the world while, at the same time, you have no idea what it will be; it's an unconscious drive to say "here I am, folks, now listen."
In a 2011 interview with All About Jazz you stated, "Soon as somebody sees you making weird sounds with your voice, they can relate to it more easily than if an instrument was doing it, even if it was the same improvisation. We all make those sounds in daily life when we moan or hum or sigh." Do you aspire to create work to which people can relate? What does that moment of relation or identification do for the audience, and what does it do for you as an artist?
Yes, I want to connect to an audience—no matter how challenging the material might seem at first. In that quote I consciously say "see" because I believe that as a performer you are not only heard but also seen. You are a fully present being, not just a soundtrack with a body attached. This desire to connect is definitely something I have come to inhabit more as I have grown (see question #1). I am not talking about pandering to an audience here—that would be a big turnoff for me and would imply that I am on a pedestal, which is the exact opposite of what I want to achieve. I am talking about being aware and grateful to the listener, for their presence right now, for taking the time to be here and being present. Performing is a continuous flow of energy between the listener and the performer—without it, it's a film. When the audience is open and receptive to this kind of energy, they listen and are listened to at the same time.
Do you prefer creating in solitude or in collaboration with others? Why?
Until I decided to become a musician, I saw my life as a visual artist. I studied painting and drawing and happily worked by myself. Then, one day, I realized that I would be alone in my creative process for the rest of my life. As much as I need that solitude when I am practicing, composing or arranging, I really enjoy being with other artists and creating work together. Being on the road with a group of great musicians and friends is one of the big pleasures in life. The thrill of being in an art form that, for the most part, is only possible by joining forces, is irresistible and forever binds you in music and spirit.
How would you describe your relationship with beauty?
I assume that when you're talking about beauty, you are referring to a sort of generally accepted understanding of beauty, one that most people would agree on is beautiful, like Mozart, Nat King Cole or Heidi Klum? For me, beauty can be a bait to get you to sit still and listen for a while—if that's all there is, then obviously it can be an empty shell. However, I think a lot of artists have a difficult relationship with beauty. Naturally beauty can seem to be "only skin deep" and therefore can suggest a lack of depth and artistic content. By avoiding beauty and going in exactly the opposite direction, an artist might hope to give his or her work a stamp of artistic approval, but that completely robs the work of any integrity. The whole point of art is to follow your own path and not care about what anyone else thinks. True artistic freedom must be able to include beauty as well as ugliness and pain—if something is beautiful at first sight, I try to calm my suspicion and lean in.
photo: Jörg Grosse Gelderman
What is the most important piece of advice you find yourself returning to lately?
Whatever you do, do it really well.
What artists (with whom you have not yet worked) would you like to collaborate?
I would love to work with John Baldessari, whose work and methods have had a direct influence on my thinking and process. Also, I deeply admire Icelandic composer Jóhan Jóhannsson's work and would love to sing his music. I don't know how and what these imaginary collaborations would sound and look like, and maybe I just want to pick their brains and learn from them, but I know it will be…beautiful.
See more of Theo Bleckmann's work here.